Witches and Goblins, Spooks and Ghosts...are you ready for Halloween?
______________________________________
I set up this Storytime with a special Halloween bucket that has 'bubbling' orange netting material spilling out if it. In the bottom I have punched out paper spiders to hand out afterwards. Surrounding me I have a host of scary characters (mini ghost, mini witch, troll with hedgehog, black cat, black puppet spider etc.) peeping around various Halloween books I have pulled. I also have the flannel Humbug Witch story set up before the kids arrive.
______________________________________
As you can see I have many friends here to help me tell stories. You see, this time of year can be kind of scary, I need the help of my friends. Friends just make things a little less scary.
Let's get in the mood and call all those witches out to join us -
One Little, Two Little, Three Little Witches
One little, two little, three little witches
~
fingers up, one, two, three
Fly over haystacks, fly over ditches
~
one hand flies up and over
Slide down moonbeams without any hitches,
~
slide the fying hand down the other arm
Hi Ho Halloween's here
~
hands on hips, then hands up, palms out
Let's start with a particular witch. A very grumpy grouchy horrible witch. A witch that goes by the name of Gritch.
Piggie Pie by Margie Palatini
OPL Link
Whew, that Gritch, she was more than just a witch by name, she was also a witch by nature I believe.
Pull over the flannel board with felt Humbug Witch on it, along with the black cat, 'Fred'. I love to ham this one up a lot, really act it out. The felt witch is there so that I can 'show' the kids the punch line at the end. I also ask the kids for magic words, I have them give me the ingredients for the potion, really let it go on this and have some fun!
I have another witch here, a different witch, a very little witch, as a matter of fact everything is tiny on this witch, well except for that nose. It's rather large...
Humbug Witch by Lorna Balian
OPL link
Here is a flannel version of this classic story that I made. Set up the flannel board before the storytime, you don't want to give away the ending before you've even started!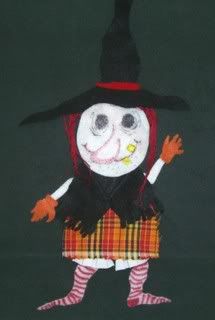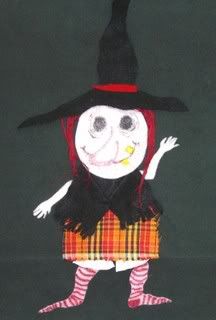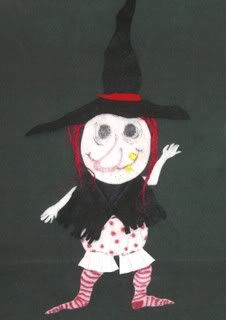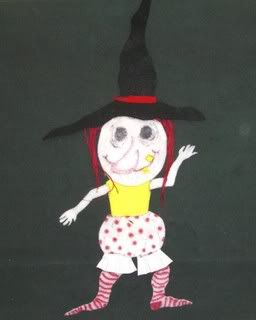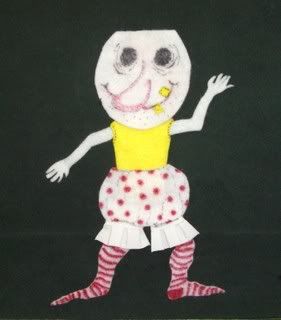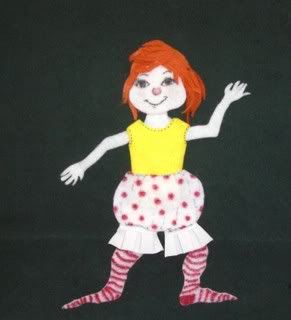 Well, no wonder her potion didn't work! She was just a little girl.
(((shiver)))
It's getting so cold outside now. The leaves are all falling, the wind is blowing. Let me teach you a little poem
Who has Seen the Wind by Christina Rossetti

Who has seen the wind?
~ hands up shrug shoulders
Neither I or you.
~ shake finger back and forth 'no'
But when the leaves hang trembling,
~ fingers hang down from wrists like leaves on trees
The wind is passing through.
~ hands together 'slide' through leaves
Now are you ready for a scary book or two?
Maybe a truly frightening wicked witch story?
Possibly a Pumpkin with preternatural* powers?
*(that means the pumpkin can do things that really aren't possible in real life)
Witch's Hand
by Peter Utton
OPL Link
if you can get a large dried out leaf for this, it works GREAT!
Okay, that does it! I'm scared. How about you? You know, here is a little something I'll teach you when things get too scary.
Mrs. McMurphy's Pumpkin by Rick Walton
OPL Link
Whew! Th

ose were some

SCARY stor

ies

!
Do you ever get really really scared? Do you sometimes just want that monster to go away
?
Go Away Big 'Orange' Monster
spin off the book
Go Away Big Green Monster
by Edward Emberley.
This is a cumulative story, read it, you'll love it! I've substituted a felt pumpkin for the green face.
As a flannel/felt story this story is so much fun as I whisk off the parts (mouth, hair, ears, eyes) and make little 'zzzup' noise as I do it - it almost always brings out the giggles in the kids. Really emphasize the end - 'and don't come back (shake finger and head in a 'no-no') unless I say so! (thumb to chest, nod head)
Felt Monster
to make - PRINT IN LANDSCAPE, enlarge as needed.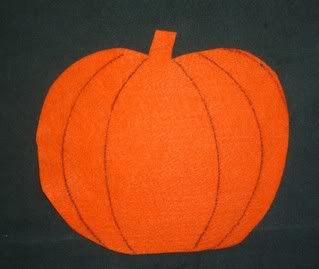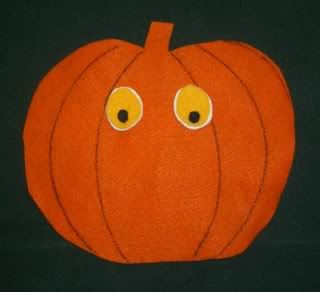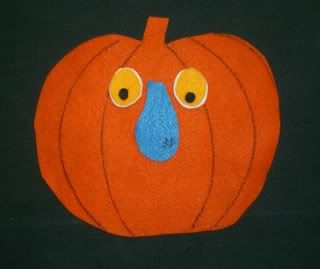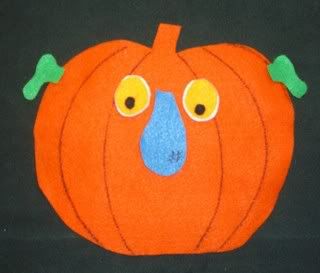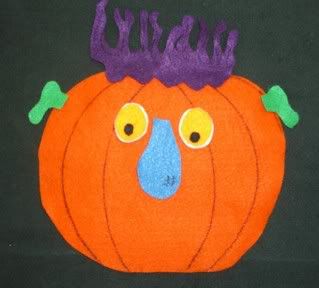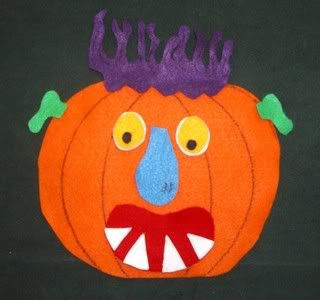 Thank you all for coming to storytime today. I have one last thing for you, a question:

What time is it when a ghost comes to dinner?
!!! TIME TO GO !!!!
Riddle from Marc Brown's

Spooky Riddles
OPL Link
Have a fun and safe Halloween! See you next time!
The Thirteen Nights of Halloween by Guy Vasilovich